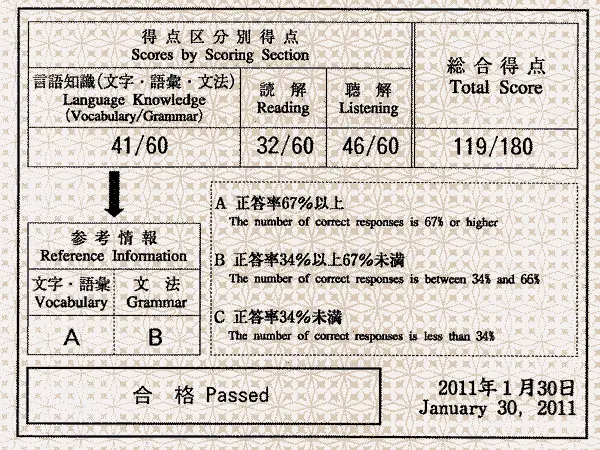 I just recently got my test results back from the December test. I took the N3 last December in training to pass the N2 hopefully this July. I was fairly confident I would pass. It still wasn't a sure thing though.
After taking the test, I felt like it might have actually been too easy. I might have aimed a little too low, but I guess it's better to get the practice in before I move up to the next level.
When I did see my test scores I was a little surprised. Sections that I thought I did well in (reading) I scored lower on, while sections that I thought I did all right in (listening) I got higher scores in. I guess it just goes to show that you never know what is going to happen on the test.
Weak Point – Reading
The biggest thing I learned from doing the test is that my weak point is reading. I need to double check my understanding of my reading comprehension. This not only means doing more reading, but also doing more active reading.
Although I have outstanding vocabulary (I got an 'A' in this section) I have difficulty puzzling out what is trying to be conveyed in the reading passages. On the test, the readings usually use a lot of vague language (for N3+). This can make it difficult to clearly understand what is being conveyed.
What baffles me is that there were no abstract essays on the N3. Most of the reading passages were pretty clear about what they wanted to say. This is why I'm a little confused at my score. Obviously they weren't as clear as I thought.
Weak Point – Plan of Attack
So, to prepare for this July, I'm going to increase the amount of reading I do every day. I just went to my favorite book recycling shop, Book Off, and picked up some used books to start reading.
This time I choose non-fiction books. Fiction books are great for vocabulary building because they provide context and you can picture what is going on in your head. However, non-fiction books are more like what you will see on the test. The language is more ambiguous and can be interpreted in different ways.
Also, non-fiction books use discourse markers. Discourse markers are things like 'however', 'in addition to' and 'after awhile'. Starting in N3, the reading passages use more and more of these and also test you to see if you can understand them by asking you questions related to them.
The first book I choose was a book on how to study, 勉強なんてカンタンだ! 齋藤孝の「ガツンと一発」シリーズ 第(1)巻. Although it is meant for kids, it does have a lot of useful information in it. The language is rather simple, but I chose it as something I can read quickly. It even has cartoons in it!
The other book is kind of a business book that was a little popular in the states, The Secret. I liked it because it is a series of short pieces of advice that are easily readable and I can put the book down at anytime. This makes it handy for reading on the train.
New goal – JLPT N2 in July
Now that I've passed the N3. I'm even more motivated and focused on passing the N2 this July. I've taken the N2 before and didn't do so well on it. I'm hoping with some more focus on my weak points I can pass it this July. There is still a lot of work to do before that though.
Action Steps
1) Have you gotten your results back yet? Did you pass?
2) What did you learn about your weak points? How are you going to improve them?