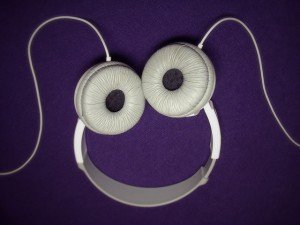 Last week, I talked a little bit about why listening to music in Japanese could help you study Japanese and improve your listening.  This week I go over where you can find some good music at decent prices or even free (legitimately).
To start off though, you need to get to know Japanese music.  I'm not a real music buff, and to tell you the truth, I wasn't a big fan of Japanese music when I first came to Japan.  However, I've since gotten into it more and more as I've discovered bands that I like.  The key then is to first go out and discover some bands.
Where can you find good bands?  Well, you can ask your Japanese friends what they like, they will usually come back with a lot of suggestions as to what is hot and what is not.  The other thing I can suggest is going to your local music store and trying out a few artists.  Also, most video rental places in Japan are also CD rental places.  You can rent a CD you like and listen to it to see if you like it.   You can also listen to some music on iTunes or Amazon Download.
To buy music inside Japan, I would recommend again heading to your local music store for new music.  iTunes Japan is also available and if you don't have a Japanese credit card you can buy a iTunes card and get into the store that way.  Keep in mind though, that the selection is a lot smaller in the Japanese iTunes store compared to the American one.  Another great source of cheap used CDs are recycle shops.  Book Off is a really big chain that has stores in most cities where you can find good prices on used CDs, but there are dozen of other little one off recycle shops all over Japan.
Outside of Japan, it is a little rougher going.  There is a lot of region-locking for iTunes, and import CDs can be pretty expensive.  There are semi-legal iTunes cards that you can buy and put in a fake address in Japan to use, but I'd recommend against that.  You can pick up some free songs on Jamendo, but the selection leaves a lot to be desired.  You can also listen to Japanese internet radio.  A good station is koreiina.jp Or, you can buy CDs at prices sometimes cheaper than in Japan at yesasia.com
Action Steps –
1) Have you started listening to Japanese music?
2) Can you suggest any good artists?
P.S. I'm now in iTunes.  If you like the podcast, please be sure to visit iTunes and leave me a review.  If you have comments or suggestions for the podcast, by all means let me know in the comments below or contact me and let me know what I can do to improve the show.  Thanks!
Music by Kevin MacLeod, and photo by JD Hancock
Podcast: Play in new window | Download (Duration: 15:39 — 14.3MB)
Subscribe: RSS