So, you've studied Japanese for the right amount of study hours you need for the big test.  You've gone over the kanji and vocabulary, even mastered all the grammar and phrases you need for the test.  You've even done some Japanese reading to help you build up stamina and speed reading skills.
You're thinking to yourself, I'm ready for this thing, but you are missing out on one small, but crucial step, taking a practice or mock test.
As the old saying goes "practice makes perfect."  As for the JLPT, practicing how to answer the questions can give you a big boost.  Simply knowing what they will look like and what traps to look out for can mean the difference between a few percentage points and you might need those to pass the test.
It's definitely worth the small amount of extra time it takes to go through a practice test so that you'll be ready for the real thing.
By the way, this particular article covers the JLPT N4, but if you are studying for the N5, I also have a JLPT N5 Practice Test available.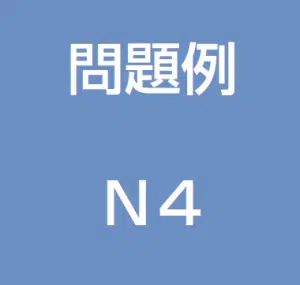 Taking the JLPT N4 Practice Test
How should you go about taking the test?  There are basically three options.  The first option is to take a previous test (pre-2010).  For the old tests, N4 corresponds to level 3 or 3級.  It's getting pretty hard to find copies of the old tests.  But if you manage to get your hands on one,  here is a quick chart of the differences between the new test and the old test:
Kanji/Vocab Section
Kanji Reading
Orthography
Expressions
Paraphrases/Usage
Pre-2010
1 sentence/2 questions
1 sentence/2 questions
Same
Same
Post-2010
1 sentence/1 question
1 sentence/ 1 question
Same
Same
Grammar Section
Particles
Grammar Form
Correct Grammar
Grammar Expressions
Pre-2010
covers particles
covered correct form
choose correct grammar
choose correct expression
Post-2010
particles and grammar form combined
now scrambled sentences
moved to listening
Reading Section
Short Passage
Medium Passage
Information Retrieval
Pre-2010
1 dialog/4 questions
1 passage/3 questions
Didn't exist
Post-2010
4 passages/1 question each
2 passage/2 questions each
New to N-JLPT
Listening Section
Task Based
Point Comprehension
Verbal Expressions
Quick Response
Pre-2010
11~ questions w/pictures
11~ questions w/o pictures
Was (kind of) in the grammar section
Post-2010
8 questions w/pictures
7 questions w/ pictures
5 questions w/pictures
8 questions w/o pictures
The kanji and vocabulary sections are very similar to the new test, the grammar section has added the scrambled sentences, and the reading and listening sections are slightly different as well.  One small note, you can find previous tests on the web, but keep in mind that they sometimes have spelling mistakes, usually have at least a few incorrect answers and the listening quality is shoddy at best.  I guess you get what you pay for.
The second option for practicing the JLPT is to get a JLPT N4 mock test.  Mock tests are created by third party companies and are meant to imitate the test.  They are usually pretty dead on for predicting how hard the real test is going to be and they are also in the exact same format as the real test, so taking a mock test would probably give you the best boost overall.  I've always taken a mock test before the real exam and it helps me prepare mentally for the exam.
The third option is to take a free practice exam from JEES (Japan Education and Exchange Services).  This practice test is not a full-sized test, but does include at least 2 examples of every question that will appear on the test, so it will give you a general idea of what to expect.  Here is a list of all the goodies that make up the practice test:
JLPT N4 Sample Test with Notes
This is the practice test from JEES, but I've included notes on all the sections of the test explaining what to look out for, timing, and how many of each question is on the test.  In order to access this information, be sure to click on the yellow question mark icon -> 
  If you'd prefer the clean version, you can get that here.
JLPT N4 Listening(mp3) and script
This is the listening for the practice test.  Unfortunately, the audio only includes the first question of every section along with the instructions, but the script has all the questions go figure.  Anyway, if you'd like to play it from your computer, be sure to right-click and click 'save link as…' or something similar.  There is also a listening script to help you look up anything you might have missed while listening.
JLPT N4 Sample Test Answer Sheet
This is the official answer sheet for the practice test so you can practice filling in the answers at lightening fast speeds.
All the answers to the questions.
Anki Flashcards for the first 14 questions
Here are some Anki flashcards that I made for the first 14 questions.  After the first 14, there are text grammar and reading questions which can't really be easily put into Anki.  You can either add this to your personal deck or study them on their own.  You can also download them off AnkiWeb by searching for "N4 Practice Test Questions".
Finally, if you want to download all of this stuff in one big wad of practice test goodness, you can do so below:
JLPT N4 Sample Test Pack (13.1 MB)
 Timing Out the JLPT N4 Sample Test
The sample test is a good deal shorter than the real test, so the timing for it will be a little different.  I still recommend timing out each section with a stopwatch or a cellphone so that you can get a feel for how long you should spend on each section.  Here is an estimate to how much time you should spend on each section:
| | | | |
| --- | --- | --- | --- |
| | Language Knowledge | Grammar/Reading | Listening |
| Sample Test | 8 minutes | 38 minutes | around 5 minutes |
| Real Test | 30 minutes | 60 minutes | 35 minutes |
Action Steps
Take the JLPT N4 Sample Test.  How was it?  What was the most difficult part?
Let me know in the comments below.  I hope to hear from you soon!