Flashcards, they are in many ways the meat and potatoes of studying a language. You can learn vocabulary and phrases a variety of ways, but probably the very best way to lock that information in , is with spaced repetition with a program like Anki.
But, in order to use Anki or any flashcard system for that matter you need to have a good deck to practice with. A deck that is accurate, through and clear as well as specific to the set of words that you need to be studying. This is even more true if you are studying for one of the JLPT levels.
Necessities of a JLPT N5 Vocabulary Deck
You want an accurate deck, because if your deck has the wrong definitions and you learn those words or practice those words with the wrong definitions, it will become increasingly more difficult to unlearn these incorrect definitions with every repetition. Some people say it is easy to unlearn bad information if you focus on it enough, but I've never been a big believer in that.
It is important that a deck is pretty through, too. You don't want it to just give you a basic definition or only one 'sense' of the word when there could be several senses for one word. For example, かける or 掛ける has something close to 23 senses according to WWWJDIC.
You also want to have a deck that is specific to your level. Spending time learning academic words when you are just starting out in the language isn't going to be the most beneficial to you and vice versa. The JLPT makes this a little bit easier by establishing levels to progress through.
Looking around the 'net and in AnkiWeb, I've always found it hard to find a deck that matches all of these criteria. Either they are through, but not completely accurate or good,  or accurate and good, but are missing a few vocabulary words.
So, I've set the extremely ambitious task for myself of creating good vocabulary decks for the JLPT. I think this will definitely be a project that will be ongoing, especially since I just heard that N1 actually contains 18,000 vocabulary words, which is basically all the common words in the language.
I'm also working in conjunction with Memrise.com to create their featured decks for the different JLPT levels. So, in the coming months, look for an announcement from me when these decks will be available over at their website. They are also in the process of designing and implementing some really cool Japanese-specific features that I'm really looking forward to seeing.
The Basics Behind the New Decks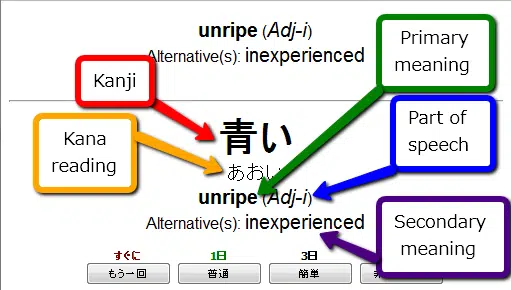 These new decks will be designed with a lot of extra features in them. First of all, all cards will have parts of speech on them. This should help give you a sense of how this word is used. Sometimes during the vocabulary usage section of the JLPT, they will test you not only on the meaning usage, but also the part of speech usage.  The parts of speech use the same abbreviations as WWWJDIC, you can find a summary of them here.
Another thing these decks will have is a primary English translation and then some alternative translations to give you a better idea of the meaning. This should help clarify a lot of words that don't have a clear, direct translation in English (which seems to be most words in Japanese).
On top of that, I've made different senses of the word, different cards. Let me give you an example of this. Instead of そちら having one card with 'that way', 'that one', 'there', etc… on one card. These senses are divided out amongst several flashcards.
The basic reasoning behind this is that you should learn the words' senses one by one and see them as separate words, because you will be using them differently in each case. This will also not catch you off guard when you hear a word used slightly differently then it's standard usage.
Unfortunately, in this beta version of the deck, I haven't been able to type in hints to help you discern between the different senses, but this is coming in future editions of the decks. For right now, I recommend definitely checking the option to have new cards randomly introduced to you, otherwise you'll get a whole pack of the same word with different senses at once. I'll try to clear this up in future editions.
So, are you ready to get started? I have just two versions of this deck available at the moment: an Anki deck, and the .csv file that you can use to import into your favorite flashcard practicing software. You can find them both below:
Alternatively, you can just search for the Anki deck on AnkiWeb when you go to download new decks.
I'm making this data available under the Creative Commons Attribution-NonCommercial 3.0 License. This means that you can share or modify this collection of data, but you can not resell it, and you must attribute your work (with a link to https://jlptbootcamp.com). I'd also like to hear about what you've done to the deck, or any changes that you think would make it more useful. If you have any suggestions, don't hesitate to contact me.