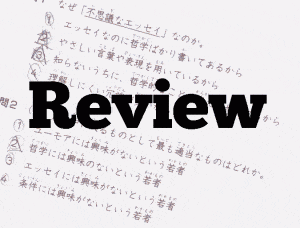 I just got my results back from the July test, and they came back as a failure. Not a really big failure, but still didn't quite make it. So, I'll be hitting the books again to get prepared and ready for the test in December.
I've already pretty much 'finished' studying for the test. What I mean by this is that I completed all the books I got to get ready for the exam, and I've gone through all the vocabulary on Anki and I'm pretty close to finishing off Japanese Flip, for my iPhone. I've even gone back and re-studied an old 二級 (old level 2) book I had for reading.
So, now it is time for some review. Review isn't exactly the most exciting thing about studying a language, but it is really important for you to stretch your language muscles on a regular basis, so that you can use them when you need to. Reviewing helps tell your brain what is important enough for it to keep for a long time.
Review is usually pretty easy for vocabulary. All you have to do is fire up your favorite SRS system, like Anki or memrise.com. But, for other skills such as listening, reading, and even grammar, SRS isn't the best tool. To review those skills, you have to use a couple of other activities.
To Buy a New Book or To Not Buy a New Book
It's often tempting to head off to the bookstore to pick up another book once you've finished a book that you have, but it isn't always necessary. You can get by with just a few books for the test as long as you review carefully and often. On the other hand, buying a new book might allow you to see the material in a different light and also be motivating.
If you do choose to recycle your books, you can do so buy either erasing or circling/checking all the answers. That way you can't cheat and get the answer. I often do this will old reading comprehension books and grammar textbooks. I go through first and circle or check all the answers then go through the book again as if it is new.
This tactic works pretty well with grammar books I've found, because the individual sentences are harder to get stuck in your head. With reading/listening comprehension books, you might want to take a longer break before repeating because a lot of the themes tend to stick in your head.
If you do choose to pick up a new book, make sure it is presenting the material in a different way. Also, you might want to pick up something more challenging than you had before. For example, I started off with the So-matome Reading Comprehension book, which is a little easier than the exam, and now I'm using 試験に出る読解 which in my opinion at least, is just about the same level as the test.
Make a Cheat Sheet
While you are reviewing through your grammar/vocabulary take notes on what is giving you the most trouble. Write down words that sound similar or grammar points that have similar meanings on a cheat sheet. Treat it like you are going to cheat on the test, of course you aren't, but if you were to, what would you put on the sheet?
You can then carry this sheet around with you and whenever you have a free moment you can take a peek at what you have problems with. This helps you focus on your weaknesses for the test. You need to be as well-balanced as possible on test day.
Review can be a bit boring at times, but it really helps you to be confident with your language abilities. Confidence is not only important for the test, but also important for conversation and fluency. You'll feel a lot better when you can simply use the grammar or vocabulary without hesitation.
What Say You
How do you review for the test? Let me know in the comments below.
P.S. Do you get a kick out of reviewing? Sign up for the newsletter then!