So, it's been about a month since I first released the Ultimate N5 Deck out into the wild. A few people have started putting it to use and I've heard back from a few of you on some improvements that can be made to the deck.
The new improvements will hopefully make the words a lot easier for you to practice and remember. I've reduced the amount of cards and also added a few more features so that it'll be less confusing when you go to study.
Only Some Senses get New Cards
Looking through the deck, I realized that some of the senses/definitions for the cards could be combined to form one 'super' sense. The idea behind this is for simplicity. It is a lot more simple to remember one sense of a word that you can expand to fit other meanings than to learn several senses that have a similar meaning. That sounds a little confusing so let me explain.
Before, the noun 青 had two cards, one for blue and one for green. These are technically two separate senses for the same word. However, you can expand the meaning of blue to include green. Thus, I combined blue and green into one card.
You can still see these senses of the same word separated by the semicolons in the 'alternatives:' section of the card. Like the card below: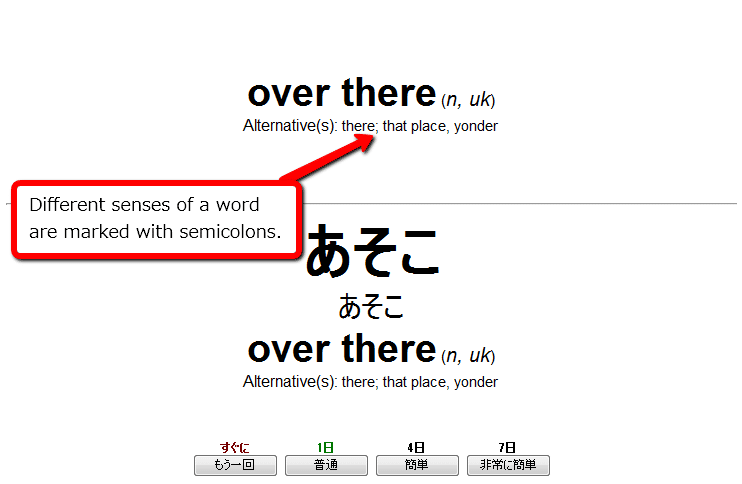 Now, as for the other few words that can't reasonably have all their senses smashed into one I still kept separate cards. This is so you can learn them separately in their different sense.
There are two added features to these cards. First, you'll see a number in parentheses before the kanji. This is because Anki requires you to not have any duplicate questions or answers. You'll just have to ignore it.
The other thing about the cards is that the separate cards point back to the other senses for that same kanji. For example, for 本, it might have the meaning as 'book', but also list 'main' and 'counter for long cylindrical objects' in the other senses section of the card.
The reason for this is I didn't want you to guess one meaning and the meaning for the card be something else (because one kanji is on several cards). So, in this way, if you get the 本 – book card, and you guessed 'main' instead you'll see that in the other senses section.
Does that all make sense? Let me know if it doesn't. I've tried to put a lot of thought into this deck in order to make it easy to use and easy to remember.
How to Use this Deck
It might be pretty easy to get lost in this deck with all the extra do-dads I threw into it, but don't despair. It is a lot easier than you think and should help you score higher on the test because you'll be armed with extra knowledge that doesn't come with some other decks.
The key here is to remember the primary English definition of the word, then use that as the key to the other words in the 'alternatives:' section. Don't try to remember all the words for the kanji in one go. It is way too much information and the main reason why I tried to simplify this deck (and the deck at memrise.com).
Furthermore, the parts of speech are there solely to distinguish what kind of word it is and how it is used. For 90% of the words in the deck the part of speech should be straightforward, but a few of them might throw you for a loop so I added them in.
I try to remember these parts of speech by coming up with a short and simple example sentence. Doesn't have to be too complicated, just something to help you remember the part of speech.
That's about it for this update. Here are the goodies:
Ultimate N5 Deck in .csv format
Again, I'm making this data available under the Creative Commons Attribution-NonCommercial 3.0 License. This means that you can share or modify this collection of data, but you can not resell it, and you must attribute your work (with a link to https://jlptbootcamp.com). I'd also like to hear about what you've done to the deck, or any changes that you think would make it more useful. If you have any suggestions, don't hesitate to contact me.
P.S. Did you like this ultimate deck? Sign up for the newsletter then!