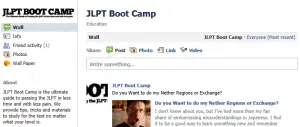 Facebook has become a staple of the internet. If you are not on Facebook, you have probably at least heard of it and know what it is. I personally use Facebook on a fairly regular basis to keep in contact with family and friends, but I also just setup a Facebook Page for JLPT Boot Camp and figured I would go exploring options to learn Japanese on the monolithic social networking site we've all grown to love, hate, or simply just deal with.
What I found kind of surprised me. Facebook may not be as useful as I thought for learning a language, but it does have its uses. I spent a good 2 hours or so reading about out-dated apps and finding out a whole bunch of stuff about nothing, but I did find some golden nuggets in there. So, read on if you want to save yourself a few headaches and get acquainted with the more useful aspects of Facebook.
Like Stuff
There are a handful of great pages out there to like that can be very useful to you. Starting with Transparent Japanese. They publish a word of the day that can help you learn a few words while looking at your feed. The vocabulary is more for beginners, but it never hurts to have some review.
There is also Tofugu's page, which keeps you updated on the latest wacky Japanese culture tidbits. If you aren't familiar with Tofugu.com, I encourage you to stop on over to the site and read a few articles. They always have interesting stories about the culture.
You can also follow pages of your favorite Japanese companies. For example, I follow Uni-Qlo, one of the only clothing stores that has my size. They send out short messages about new items that are going to be on sale. It might seem a bit boring, but it can be useful to have those small bit-sized bits of Japanese to read while doing your other Facebook 'stuff'.
I also hear there is a really cool page by a guy named Mac with a website called JLPTBootCamp.com that you might want to check out. It has all the latest updates from the site.
Get Social
After all, it isn't called social media for nothing, right? Facebook can be a great way to socialize with some real native Japanese speakers. Facebook provides plenty of opportunities to socialize with your friends and keep the conversation going. The first thing you have to do though is start the conversation.
First off, you can find people with similar interests on different pages like the Japanese page. Although, this page hasn't been updated for about a year, there are still people making comments there that are interested in the Japanese language. You can make a few friends by sending a message and saying hi.
Second, create a useful username so that when you meet native speakers that are on Facebook they can find you relatively easy. You can meet people on sites like interpals.net, ABCLoop, or just out and about. Facebook is a great way to keep in contact without having to remember to email someone with an update.
I use Facebook to stay in contact and keep in touch with my friends and family. Sometimes I comment on my Japanese friends' statuses to practice some conversational Japanese. It's also just good to read what they write down and their friend's comments. So you can learn even if you don't interact.
What about Applications?
Although Facebook is famous for social gaming (Farmville anyone?). They have yet to come up with a good game for studying Japanese. Kanjibox is still around and it is pretty good, but it has become more of a web app than a Facebook app. We can just keep our fingers crossed until something good comes out, or if you know of a great app that you can use on Facebook let me know in the comments, but I kept coming up empty.
Your Opinions?
Do you use Facebook to learn Japanese? Is it useful to you? Do you know about any resources for Facebook to help you learn the language? Let me know in the comments below.
P.S. Do you need some tips on how to pass the JLPT? Sign up for the newsletter then!
P.S.S. Do you like Facebook?  Hey, me too!  Join my Facebook Page for all the latest updates.