The N3 is a bit of an odd man out.  A lot of people don't quite know how to study for it because it didn't exist before 2010.  It was created to help learners move up from the old level 3 (now N4) to the old level 2 (now N2).  It does this pretty well by adding more vocabulary and grammar, but not adding too many difficult skills like reading for inference.  For more details about N3, I did a whole podcast episode on it a while back.
The books that cover the grammar and vocabulary for this test are pretty accurate though.  I personally recommend the So-matome series. I used the grammar book, and it really helped me get through the grammar section of the exam.  There are some lists available on the web, but these don't compare to doing some exercises with the grammar and really get a feel for it.
However, you can go through all these exercises all day, but it doesn't compare to the real test.  There is a big difference between sitting down and studying for 15 to 30 minutes and sitting down and taking a test that can last 3 and a half hours (if you include the breaks).  Even without the breaks, you are going to be testing for 140 minutes.  That is enough to fry a brain if you are not prepared.
So it is a pretty good idea to take a practice test or a mock test before you head into the exam.  Note: This article covers just N3, but I have a JLPT N5 Practice Test and a JLPT N4 Practice Test as well.
Taking the JLPT N3 Practice Test
So, how should you actually go about practicing for the test?  Well, unfortunately you don't have the option of taking previous tests because the test didn't exist before 2010.  And since 2010, previous tests are no longer being released.  So, there are no old tests to take like all the other levels.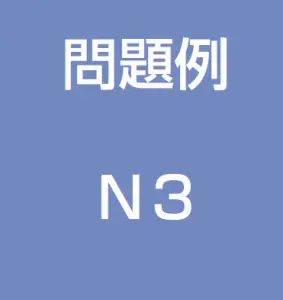 That gives you only two options.  The first one is to take a JLPT N3 Mock Test.  These tests are usually pretty helpful in that they resemble the real test, right down to the font and answer sheet that is used.  Even the voices in the listening section are pretty close to the same voices on the real test.  Making it an excellent choice to prepare for the exam.
On top of it being a mock test, it also contains feedback to help you understand what you did wrong.  The mock test also gives you advice on how to score higher on the exam as well.  So, they can be a good deal and a real lifesaver when it comes to preparing for the exam.
The other, free option, is to take an official practice test from JEES , Japan Education and Exchange Services (the company that puts on the JLPT).  These practice tests aren't full length, but they have at least 2 examples of every type of question on the test.  This can give you a general idea of what to expect on test day.  Here is a list of all the goodies you get with the practice test:
JLPT N3 Sample Test with Notes
This is the practice test from JEES, but I've included notes on all the sections of the test explaining what to look out for, timing, and how many of each question is on the test.  In order to access this information, be sure to click on the yellow question mark icon -> 
  If you'd prefer the clean version, you can get that here.
JLPT N3 Listening(mp3) and script
This is the listening for the practice test.  Unfortunately, the audio only includes the first question of every section along with the instructions, but the script has all the questions go figure.  Anyway, if you'd like to play it from your computer, be sure to right-click and click 'save link as…' or something similar.  There is also a listening script to help you look up anything you might have missed while listening.
JLPT N3 Sample Test Answer Sheet
This is the official answer sheet for the practice test so you can practice filling in the answers at lightning fast speeds.
All the answers to the questions.
Anki Flashcards for the first 14 questions
Here are some Anki flashcards that I made for the first 14 questions.  After the first 14, there are text grammar and reading questions which can't really be easily put into Anki.  You can either add this to your personal deck or study them on their own.  You can also download them off AnkiWeb by searching for "N3 Practice Test Questions".
Finally, if you want to download all of this stuff in one big wad of practice test goodness, you can do so below:
JLPT N3 Sample Test Pack (13.1 MB)
Timing Out the JLPT N3 Sample Test
The sample test is a good deal shorter than the real test, so the timing for it will be a little different.  I still recommend timing out each section with a stopwatch or a cellphone so that you can get a feel for how long you should spend on each section.  Here is an estimate to how much time you should spend on each section:
| | | | |
| --- | --- | --- | --- |
| | Language Knowledge | Grammar/Reading | Listening |
| Sample Test | 8 minutes | 41 minutes | around 5 minutes |
| Real Test | 30 minutes | 70 minutes | 40 minutes |
Action Steps
Take the JLPT N3 Sample Test.  How was it?  What was the most difficult part?
Let me know in the comments below.  I hope to hear from you soon!
P.S.  Are you preparing for the N3? You are going to want to Sign up for the newsletter then!