Typing has become such a critical part of our lives. Can you even imagine how much typing you do on a daily basis?  Between Facebook, Twitter and email, your little fingers are probably quite busy typing away on the average day.
So it only makes sense that if you are practicing a language, you should be able to type in that language as well, right?  These days you have it pretty easy.  Before the dawn of Windows, people who wanted to type in Japanese had to type with a kana keyboard.  As a matter of fact Japanese keyboards still have kana printed on them, but only older people use them anymore.
Nowadays, you have this handy thing called the IME that does some crazy voodoo magic to allow you to type pretty easily in Japanese.  This is actually a little freebie that has been thrown into Windows.  It is quite simple to set up and use actually.
Installing the Japanese Microsoft IME on Windows 7
Click on the start button (that glossy windows thing in the lower left corner of your screen) and open up the control panel.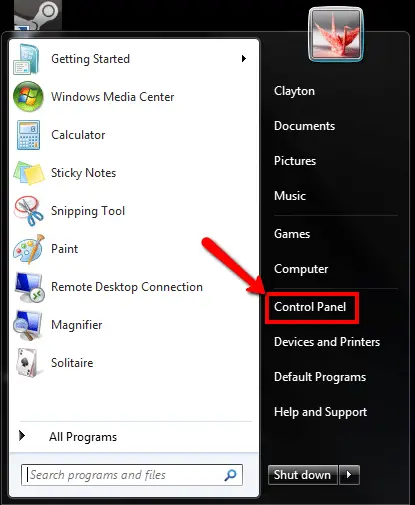 Under Clock, Language, and Region, click on Change keyboards or other input methods
You should then see something like the Region and Language menu below.  Click on Change keyboards…
Then, you should see something like the following Text Services and Input Languages menu.  The big difference will be that yours will probably not have the Japanese keyboard already installed.  My PC has it installed already because I have a physical Japanese keyboard (that actually has built in shortcut keys for the Microsoft IME) and so when I installed Windows on this machine it just automatically installed the Japanese keyboard along with the Microsoft IME as the default keyboard.  Yes, even if you have a physical Japanese keyboard you will still want to setup the Microsoft IME.  In case you were wondering it is a Microsoft Natural Ergonomic Keyboard 4000, and I highly recommend it if you are going to be doing a lot of typing.
Anyway, for this menu click the Add… button.
By the way, this is also where you can set the default input language.  If you become really comfortable using the Japanese Microsoft IME keyboard, you can set it here as your default so that you don't have to keep switching to it after you boot up your PC.  You can use the IME to type in both Japanese or English as we will see in a bit, so this is a good option to remember.
After you press the Add… button, you should see this Add Input Language menu. Scroll down and find the Japanese (Japan) options, open it up by clicking the + sign and select Microsoft IME. The Japanese keyboard only allows you to type in a kana, which as I said before is what older people in Japan use.  So, to avoid confusion, don't install it.  It'll just clutter up your language bar.
After you've done that click OK.  This will take you back to the Text Services and Input Languages menu, where you can confirm that you've installed the Japanese (Japan) – Microsoft IME keyboard.  After doing that, go ahead and click the OK button.  Then click the OK button on the Region and Language menu.  And Windows might prompt you for your installation disc, or simply just ask you to log out and back in again depending on your setup.
And then, finally, after all that mambo jumbo, you should have a shiny new language bar:
You should see this down in the lower right of your screen hanging out with all your tray icons.
You can also un-dock it as well by right-clicking the JP or EN icon and selecting Restore the Language bar.
Then you'll have this lovely toolbar to play around with:
The main advantage of this is that you can switch conversion modes (you can set the IME to bias for names or speech) easily or use the IME Pad (to draw kanji that you don't know the pronunciation of)  Clicking the kana button will enable you to use those awesome kana keys.
Now, let's have a little fun typing in Japanese
Typing in Japanese
Basically, there are 3 systems of romanization for Japanese:  nihon-shiki, kunrei-shiki, and the hepburn system.
In brief, nihon-shiki is a direct transliteration of the Japanese writing system, it converts ち for example into ti because it comes from the t- line of kana – た ta, て te, ち ti, と to, つ tu (actually pronounced tsu as in tsunami).  However, we don't pronounce ち as the English ti, we pronounce it chi, so that is why the kunrei-shiki system was developed.  However, the hepburn system is more widely used for official things.  This is generalizing a bit, but the big difference between hepburn and kunrei is that it uses more punctuation to indicate stops, long vowels and such.  It is a little trickier to type in so I would recommend sticking with kunrei.  Although, you can use the nihon-shiki system to type with the IME if that is what you are comfortable with.
So, let's give it a try.  You can open up Wordpad (or your favorite word processing app and give it a try).  To access Wordpad, you can simply type Wordpad in the search window of the start menu.  Now, when your IME switched to Half-width alphanumeric, which it is by default, it'll look like this:
When it is in this mode, you can type in English like a regular keyboard.  Some of the punctuation buttons will be in different places.  Most noticeably the single quote -> ', will be above the 7 key and not off to the right like it is on the English keyboard.
If you switch to hiragana mode, by clicking on the 'A' and selecting hiragana, you can type in Japanese.
You'll see romaji on the screen until you make a kana.  For example, if you type hjkly, it'll show up as romaji.  You must type a valid kana and then it will automatically switch to the kana.  So if you type the letters konnichiha, you'll get こんにちは.  Now if you hit enter, it will simply leave the kana as is.  If you want to use the kanji, you have to hit the space bar.  This will give you the IME's best guess as to what kanji you want to use.  If you hit the space bar again, you will see a pop up menu where you can select the kanji that you want to use.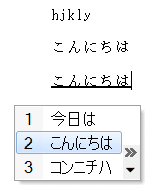 Note, this is also the way you can get katakana without having to select it in the IME.  Some kana have several kanji available for them.  If the kanji or often confused (they have similar meanings, same pronunciation, but different kanji) then there are notes available to help you differentiate.  Unfortunately these notes are in Japanese:
Two shortcuts that will definitely come in handy are the keyboard to switch between languages (SHIFT+ALT) and the shortcut to switch between alphanumeric and hiragana (ALT+`).  The ` key is the one usually under the tilde ~ not the single quote.  It should be here on your keyboard:

These shortcuts allow you to rapidly switch between typing in English and in Japanese, which is handy if you are say practicing vocabulary on memrise or filling out a form for a Japanese website.
I should also note that the Microsoft IME will remember what you are using in what window.  So, for example, if you are typing in Japanese in Wordpad, you should be able to switch to Firefox and type in English without changing it in the IME.
If you are more of a visual person, you can check out the full video walk through on YouTube:
Did you get all that?
Did I miss something?  Did you have problems setting up the IME?  Let me know in the comments below and I'll try to clarify.
P.S. Do you like hearing about cool stuff?  Me, too! Sign up for the newsletter!
P.P.S. Do you like to party?  Then try joining my Facebook Page for all the latest updates.
Photo by Tamaki Sono