It's often times pretty hard to find good solid examples of a particular grammar point or vocabulary word. Exercise books will give you a few examples for you to learn from, but tend to be a bit boring. On top of that, 2 or 3 sentences might not be enough to get the nuance of the word. In vocabulary drill books, you sometimes only get a sentence to go by.
At the higher levels, it is almost essential for you to study the usage as well as the meaning of the grammar and vocabulary. This especially makes sense considering there is a whole part of the vocabulary section that goes over usage and this is typically the most difficult part of the test.
The grammar section will test you a similar way. You might now the meaning of a particular grammar point, but do you know what kinds of contexts it is used in. Does it have a negative connotation or a positive one? Can you use it casually or is it normally used in formal speech? These are all important to know for the test and for real life usage of the language.
A Handy new Resource
Well, recently Andrew came up to visit Kyoto and we met up. Over some eats and coffee, we started sharing our tips on how to study for the test and what resources we used. Of course, this involved us whipping out our iPhones and swapping ideas over what is the best app. One tool that really struck me as invaluable was a site called TwaseBook.org.
The basic idea behind TwaseBook.org is that you choose a language like Japanese, then type in a word or phrase that you would like to search for. Twase Book pulls up the latest tweets that mention that word or phrase. This is pretty much like Twitter search, but they added automatic translation to the mix as well.
Is it good automatic translation? Well, no, it is done by Microsoft's auto translator and well, it is a little bit of a joke. However, if you are familiar with the Japanese, you can look at the translation to figure out the few words that you don't know, so that you can come up with the whole meaning. Or, you can just use Rikai-chan (for Firefox) or Rikai-kun (for Chrome) to help you with vocab as well.
Testing it Out
At first I was a bit skeptical of this new found resource. It seems like a good idea on the surface, but can I really get some good phrases and expressions from some random chatter on Twitter? I mean, aren't they just talking about random things on there?
The first thing I tested it out on was pretty basic 猫(neko) or cat. This is most likely one of the most common words on Twitter. Who doesn't like cats? So, I typed it in and got this as the first result:
Not bad really. The translation is of course rubbish. I'm not sure where they got goggling from, but my rough translation of this tweet would be something like "My Roomba is rumbling around, but my cat isn't scared at all. He's a smart one."
So that was a decent success, but what about something a little more complicated. How about a somewhat difficult grammar point like つつある: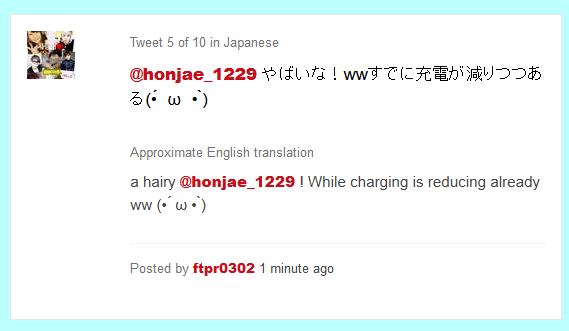 I had to look through a few, but finally found a few good ones. This one is pretty good and describes something we've all been through. I would translate this as "Oh man! My battery is already starting to die!"
I tried one last one from my So-Matome N1 Grammar Book – ないでにすむ. It came up with an interesting tweet:
It is kind of easy to remember that one. This, roughly translated, means "For a man-hater like myself, I think it is a good thing I'm tall, because visually, people can't look down on me (or manage me easily)."
There were a lot of tweets that contained too much slang for me to really understand what they were saying and one small problem I had with this system is that it didn't link to the original tweet so I couldn't check what the tweet was in reply to if it had an @ symbol in it. This makes it sometimes hard to guess what they are trying to communicate in the tweet.
Overall though, I at least recommend giving it a try. After all, it is free!
Did you Find it Useful?
Were you able to find some good tweets to help you with your studies? How about some funny ones? Let me know in the comments below.